The Mysterious Old Radio Listening Society Presents: Radio Noir
Jun 16 | 8:00 pm

-

9:30 pm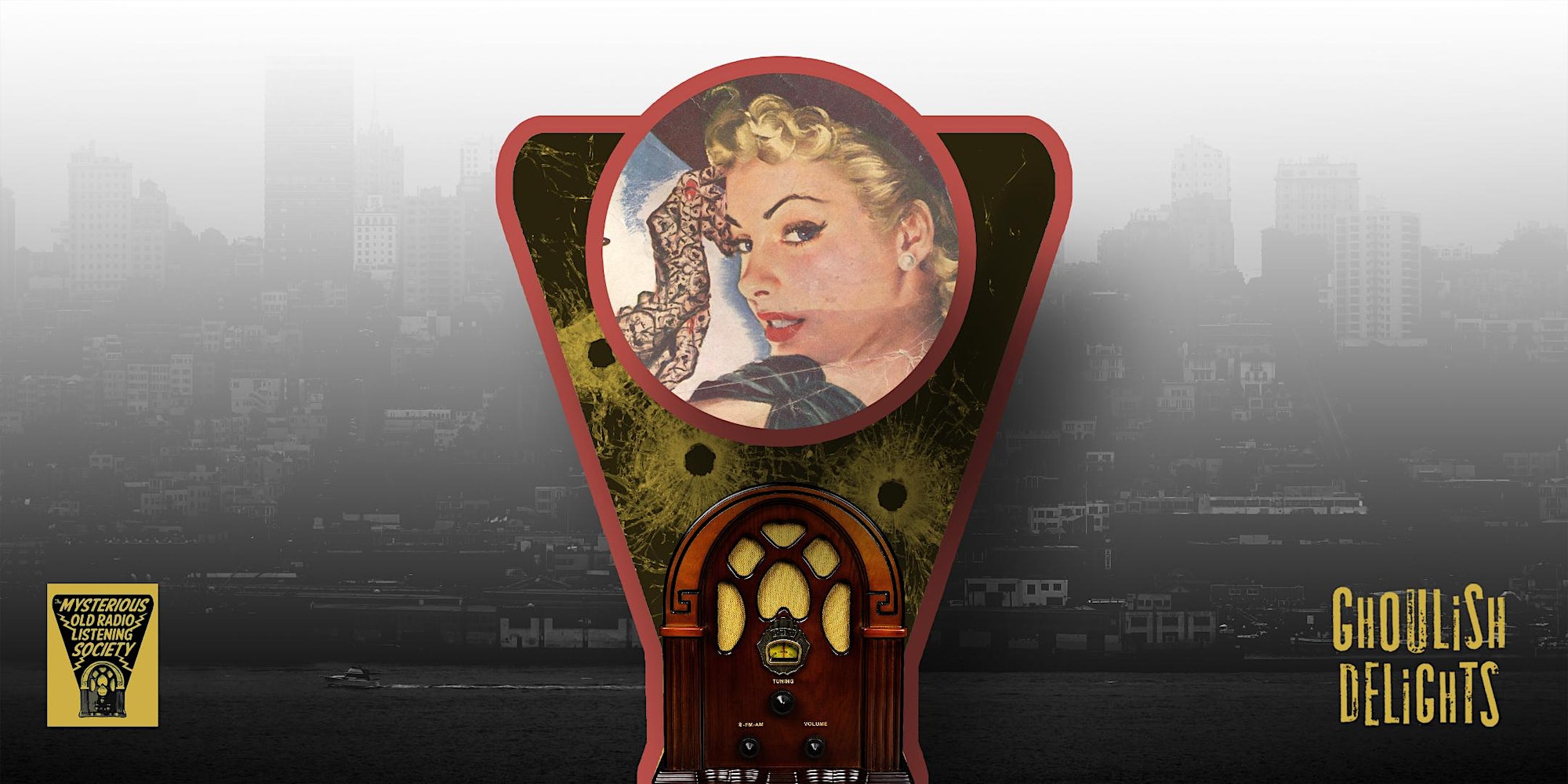 Newly remodeled classic nightclub featuring raised ceilings, luxury booths, tiered seating, and state-of-the-art sound and lights.
Dinner and cocktail seating and service begins 1 hour before showtimes.
Radio Drama
Join the Mysterious Old Radio Listening Society for an evening of hardboiled thrills, performed in the style of a vintage radio broadcast, including commercials, live music and sound effects. "Red Wind" from The Adventures of Philip Marlowe (1947): A murder in a cocktail lounge sends private eye Philip Marlowe in pursuit of a mysterious woman in a bolero jacket. The debut episode of The Adventures of Philip Marlowe was adapted from the 1938 short story by Raymond Chandler. "The Cable Car Case" from Candy Matson, Yukon 2-8209 (1949): When a shopping trip puts "gal detective" Candy Matson on the same cable car as a murder victim, our sharp-witted heroine finds herself in the crosshairs of a killer! A fan-favorite episode from the delightfully quirky San-Francisco radio series.
Eric Webster
Shanan Custer
Tim Uren
Joshua English Scrimshaw
Eric Webster is an actor, producer and writer for stage, radio and television for 25 years. On stage credits include; Guthrie Theater, Park Square Theatre, Artistry Theater, Workhaus Collective, Paul Bunyan Playhouse, and Pioneer Place Theater. In television, he hosted, wrote and produced "The Big Bad Movie" which earned an Emmy Nomination. On radio, he was the host of the "Two Martini Lunch" for KLBB. He is the creator of the on-stage audio drama serial "Shade's Brigade" which is now over 100 episodes long and has been running for over 10 years.
Shanan Custer is a theater maker, writer, director and improviser who has worked with the Brave New Workshop, Interact, Strike Theater, Theatre Pro Rata, HUGE Improv Theater, Special When Lit, The Mystery Café, Mu Performing Arts, Full Circle Theater, Park Square Theatre and Theater in the Round. Her original series "Songversations" created with Rhiannon Fiskradatz plays tri-monthly at the Bryant Lake Bowl. Shanan appeared in Ghoulish Delights "The Tourist Trap" written by Tim Uren in May.
Tim Uren has been performing, writing, and directing theater in the Twin Cities for over 25 years, and along the way has worked with companies such as Theater Pro Rata, the Brave New Workshop, and Theater in the Round. In 2013, he established Ghoulish Delights, a theater company dedicated to bringing tales of horror and suspense to Twin Cities stages. He also co-hosts The Mysterious Old Radio Listening Society podcast, which revisits horror, crime, and suspense shows from the golden age of radio.
Joshua English Scrimshaw is a Twin Cities-based actor, writer, producer, and co-founder of the all-ages theater company Comedy Suitcase. He has been called "a clever and inventive voice in Twin Cities comedy theater" by The Star Tribune and "a modern day Buster Keaton" by mnartists.org. Joshua is a frequent contributor to the speculative fiction showcase, The Not-So-Silent Planet, including their 2021 Minnesota Fringe production, Where Dark Things Sleep. In 2013, Joshua was cast in his first Ghoulish Delights production, The Strange Case of Doctor Jekyll and Doctor Jekyll. Since then he has appeared in The Thermos Bottle (2014), The Screaming Skull (2018) and Rattus Rattus (2022). He is also a founding member of Ghoulish Delights' The Mysterious Old Radio Listening Society; an old-time radio podcast and performance group.
"Shanan Custer, Joshua English Scrimshaw, Tim Uren, and Eric Webster have this down cold — not just the technical aspect, but the tone… Chilling as it might be to experience these tales (complete with old-school ads) alone in the dark, it's much more fun to experience them with a crowd." –City Pages