'66: Talkin' Bout My Generation
Apr 15 | 8:00 pm

-

9:30 pm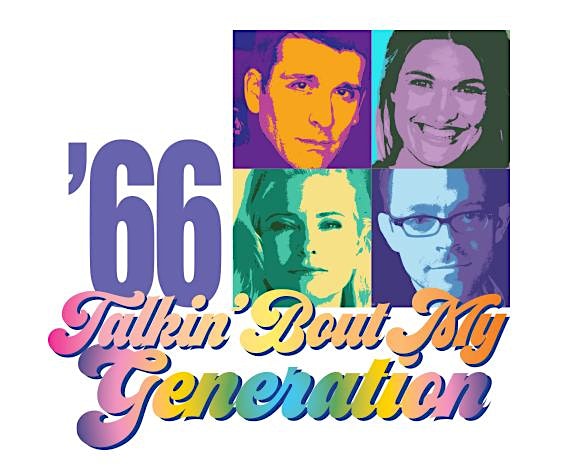 Newly remodeled classic nightclub featuring raised ceilings, luxury booths, tiered seating, and state-of-the-art sound and lights.
Dinner and cocktail seating and service begins 75 minutes before showtimes.
Wild Rocking Journey to 1966
'66 – Talkin' Bout My Generation is a wild, rocking musical journey through the cultural and political events of the pivotal year 1966. This hybrid concert/play takes you into the studios of radio station WCRO as our intrepid announcers offer up the year's local and world news, a call-in trivia program, authentic advertisements, Irma Kvetchovik's "Advice for Modern Living", and a whole lot of fabulous songs. Written and performed by vocalists Bradley Greenwald, Prudence Johnson and pianist Dan Chouinard, with special guest vocalist Liz Hawkinson, as well as Dean Magraw on guitar and Gary Raynor on bass. Join us "ON AIR"! Songs include "Monday Monday", "Sound of Silence", "God Only Knows", "I Remember", "Draft Dodger Rag", "Ain't That Peculiar","Summer in the City" and many more.
Chronofon:
Bradley Greenwald, vocals
Prudence Johnson, vocals
Dan Chouinard, piano
Liz Hawkinson, special guest vocalist
Dean Magraw, guitar
Gary Raynor, bass
Chronofon is a confluence of four Minnesota performing artists – Dan Chouinard, Diana Grasselli, Bradley Greenwald, and Prudence Johnson—all experienced musicians/actors/writers/producers -who together conceive, research, write and perform musical chronicles of great artists, events, or time periods. The result is dynamic theatrical concerts that work as well on the nightclub stage as in the theatre or the concert hall—poignant, funny, thought-provoking and always beautifully performed. In collaboration with the Friends of the St. Paul Public Library and Open Eye Theatre, and with support from The Minnesota Regional Arts Council, Chronofon has also created Dear Lenny: Bernstein's Life in Songs and Letters; Jacques Brel – When We Have Only Love; and When the Shark Bites, as well as concerts specifically created for Crooners featuring French and Italian songs.
"With.. Greenwald and Johnson we are talking about… superb vocalists who not only sing with beautifully lush voices, but create a whole character in every song". –Arthur Dorman, Talkin' Broadway