Honky-Tonk Jump: The Texas Swing Music of Bob Wills
May 28 | 4:30 pm

-

6:00 pm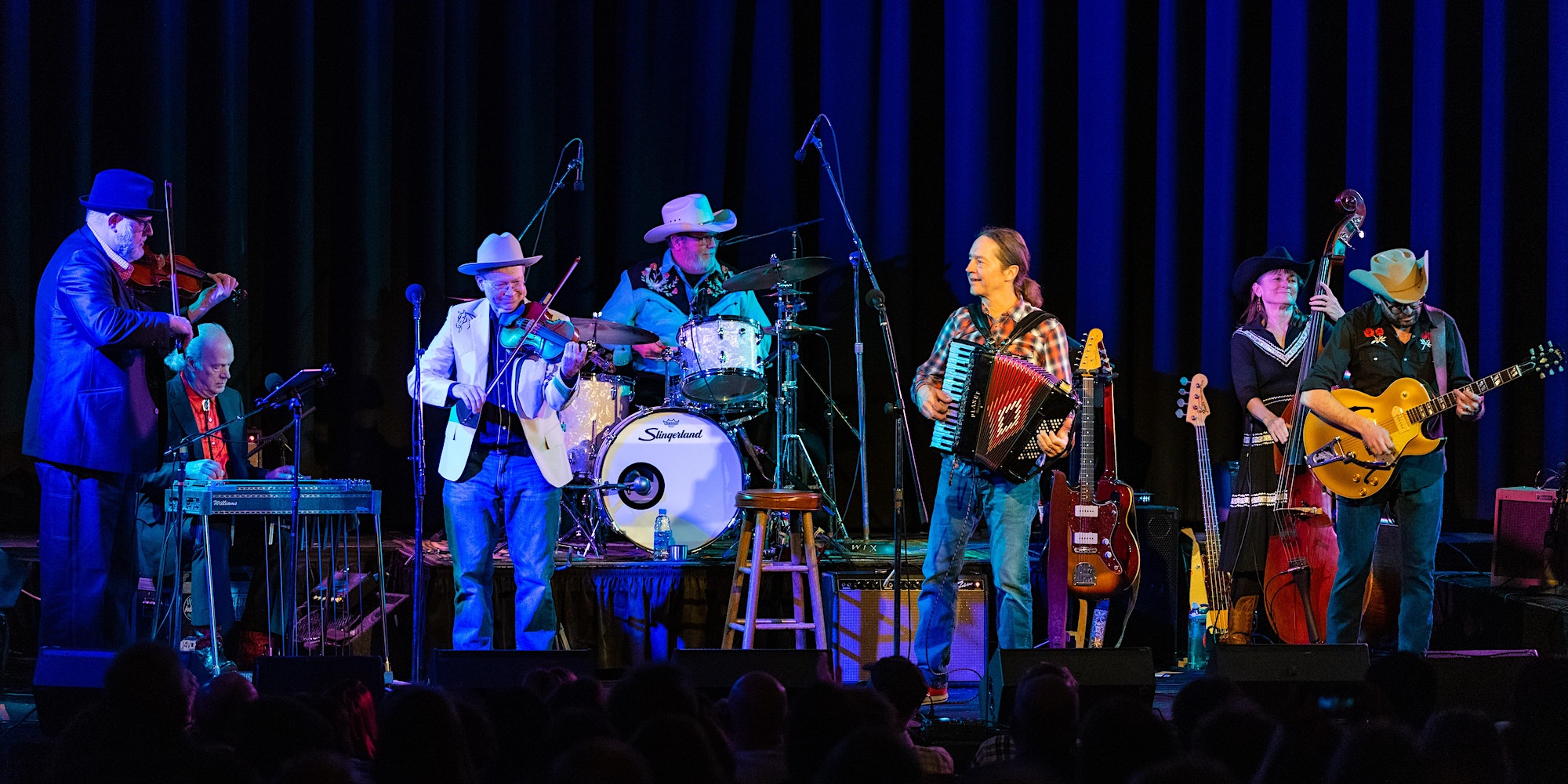 Newly remodeled classic nightclub featuring raised ceilings, luxury booths, tiered seating, and state-of-the-art sound and lights.
Jazz With a Cowboy Hat
Honky-Tonk Jump plays swingin' Texas dance hall music in the tradition of Bob Wills, Milton Brown, Ernest Tubb and Spade Cooley with a sprinkling of Hank Williams and other early honky-tonk legends. This band rustles up a rhythm roundup with accordion, twin fiddles, guitar, pedal steel, mandolin, bass, drums and vocals. Their music features signature twin and triple leads on accordion, fiddle, pedal steel and guitar with soulful vocals, all backed by a hard-swingin' rhythm section. This band has fun and it's contagious!
Dan Newton accordion/vocals
Richard Kriehn fiddle/vocals
Joe Savage pedal steel/vocals
Dan Lowinger guitar
Vaughn Asselstine upright bass
Dehl Gallagher drums
Tom Schaefer fiddle
Dan Newton performed many times on A Prairie Home Companion and played Western swing with various bands since the 1980s. He serves triple duty as the front man, accordionist and lead vocalist.
Dan Lowinger (guitar) is rich in the tradition of Western swing and classic country. He has performed regionally and toured nationally with many different country and swing bands including the Barn Door Slammers.
Tom Schaefer's (fiddle) Western swing credentials include performances with Texas Playboys Tiny Moore and Eldon Shamblin and Country Music Hall of Famer Hank Thompson. He is a three-time South Dakota State Fiddle Champion and was inducted into the South Dakota Friends of Traditional Music Hall of Fame in 2013.
Joe Savage (steel and vocals) has played and recorded with many artists and was a frequent guest on the Prairie Home Companion. Joe was a longtime member of the Midwest Country Music Theatre band and has been awarded two Minnesota Music Awards and a Lifetime Achievement Award from the Minnesota Rock/Country Hall of Fame.
Vaughn Asselstine (upright bass) is half of the hard-driving rhythm section. She lays down a groove for a variety of bands around town performing jazz, old-time, swing, Cajun, country and bluegrass music.
Dehl Gallagher (drums) has played drums in Nashville, Branson, and Minneapolis for many groups and members of the Country Music Hall of Fame. He was also a longtime member of the Midwest Country Music Theatre band.
"The crowd of over 600 were roaring their approval beginning the moment they heard the first twang from the stage. Honky-Tonk Jump played old favorites and new tunes with an ease that comes from the many years they've all played professionally. What an unforgettable evening!" – MIssissippi Music