The Mysterious Old Radio Listening Society: Best of the Best of Radio Drama
Apr 13 | 7:00 pm

-

8:30 pm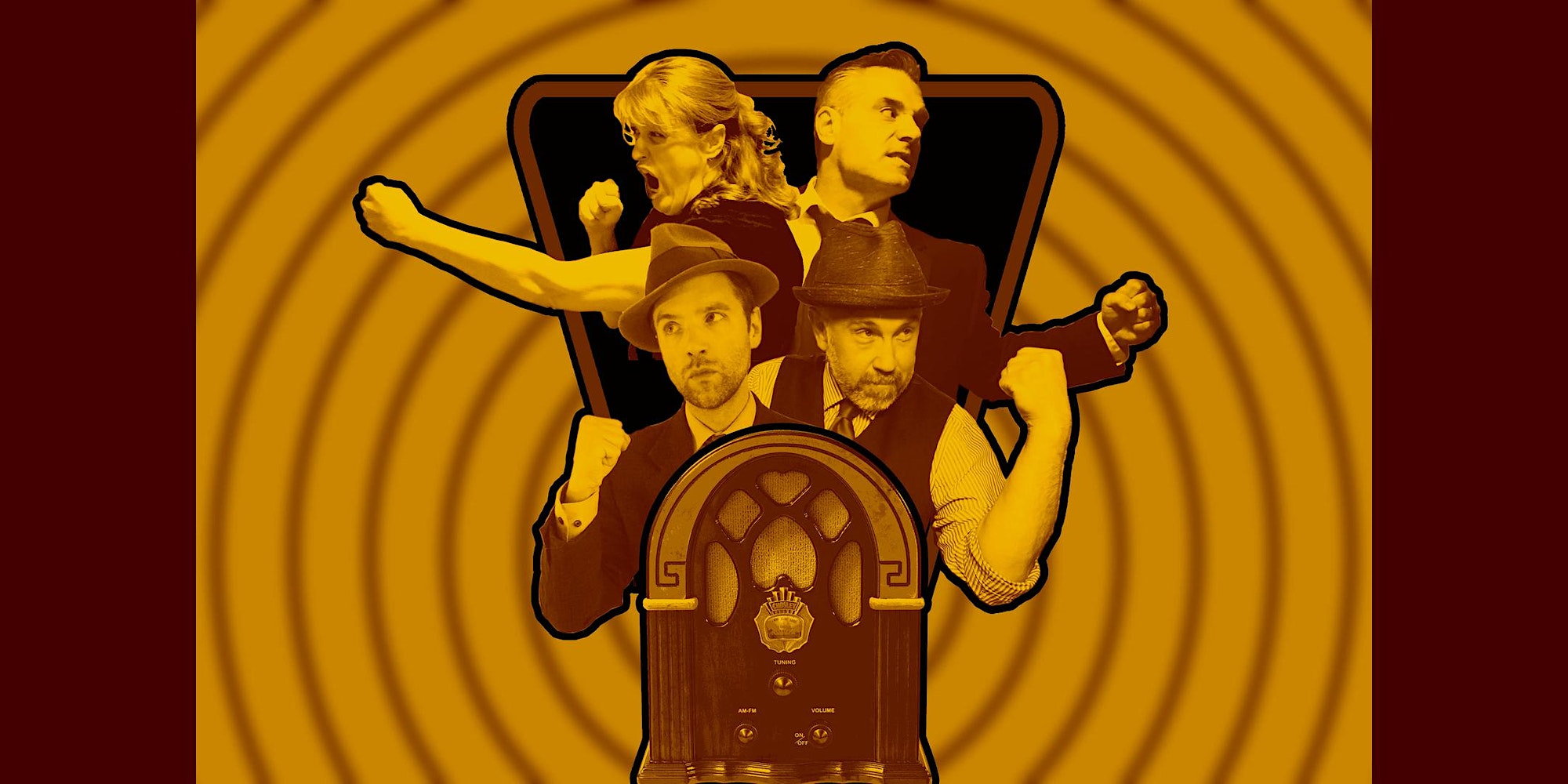 Newly remodeled classic nightclub featuring raised ceilings, luxury booths, tiered seating, and state-of-the-art sound and lights.
Dinner and cocktail seating and service begins 1 hour before showtimes.
Classic Radio Drama Recreations
The Mysterious Old Radio Listening Society presents two legendary thrillers from the golden age of radio, performed in the style of a classic radio broadcast, including commercial breaks, eerie music and live sound effects. Brought to life by veteran Twin Cities performers Shanan Custer, Joshua English Scrimshaw, Tim Uren and Eric Webster "using their voices to paint a picture so vivid that if you close your eyes you can see the action in your mind's eye." (Stages of Minnesota)
THE SHOWS:
"Sorry, Wrong Number" from Suspense: Lucille Fletcher's famous radio play tells the story of a woman confined to her bed who overhears two men plotting a murder. First broadcast May 25th, 1943.
"Three Skeleton Key" from Escape: Three lighthouse keepers battle a horde of rats in this classic story from French writer George Toudouze. First broadcast November 15th, 1949.
Joshua English Scrimshaw
Tim Uren
Shanan Custer
Eric Webster
Shanan Custer is a theater maker, writer, director and improviser who has worked with the Brave New Workshop, Interact, Strike Theater, Theatre Pro Rata, HUGE Improv Theater, Special When Lit, The Mystery Café, Mu Performing Arts, Full Circle Theater, Park Square Theatre and Theater in the Round. Her original series "Songversations" created with Rhiannon Fiskradatz plays tri-monthly at the Bryant Lake Bowl. Shanan will be appearing in Ghoulish Delights "The Tourist Trap" written by Tim Uren in May.
Joshua English Scrimshaw is a Twin Cities-based actor, writer, producer, and co-founder of the all-ages theater company Comedy Suitcase. He has been called "a clever and inventive voice in Twin Cities comedy theater" by The Star Tribune and "a modern day Buster Keaton" by mnartists.org. Joshua is a frequent contributor to the speculative fiction showcase, The Not-So-Silent Planet, including their 2021 Minnesota Fringe production, Where Dark Things Sleep. In 2013, Joshua was cast in his first Ghoulish Delights production, The Strange Case of Doctor Jekyll and Doctor Jekyll. Since then he has appeared in The Thermos Bottle (2014), The Screaming Skull (2018) and Rattus Rattus (2022). He is also a founding member of Ghoulish Delights' The Mysterious Old Radio Listening Society; an old-time radio podcast and performance group.
Eric Webster is an actor, producer and writer for stage, radio and television for 25 years. On stage credits include; Guthrie Theater, Park Square Theatre, Artistry Theater, Workhaus Collective, Paul Bunyan Playhouse, and Pioneer Place Theater. In television, he hosted, wrote and produced "The Big Bad Movie" which earned an Emmy Nomination. On radio, he was the host of the "Two Martini Lunch" for KLBB. He is the creator of the on-stage audio drama serial "Shade's Brigade" which is now over 100 episodes long and has been running for over 10 years.
Tim Uren has been performing, writing, and directing theater in the Twin Cities for over 25 years, and along the way has worked with companies such as Theater Pro Rata, the Brave New Workshop, and Theater in the Round. In 2013, he established Ghoulish Delights, a theater company dedicated to bringing tales of horror and suspense to Twin Cities stages. He also co-hosts The Mysterious Old Radio Listening Society podcast, which revisits horror, crime, and suspense shows from the golden age of radio.
"An artisanal, old-school way of making entertainment…the fun is in watching these fine actors work almost exclusively with their voices…and to see them create a sepia-toned world with handmade sound effects." –Pioneer Press